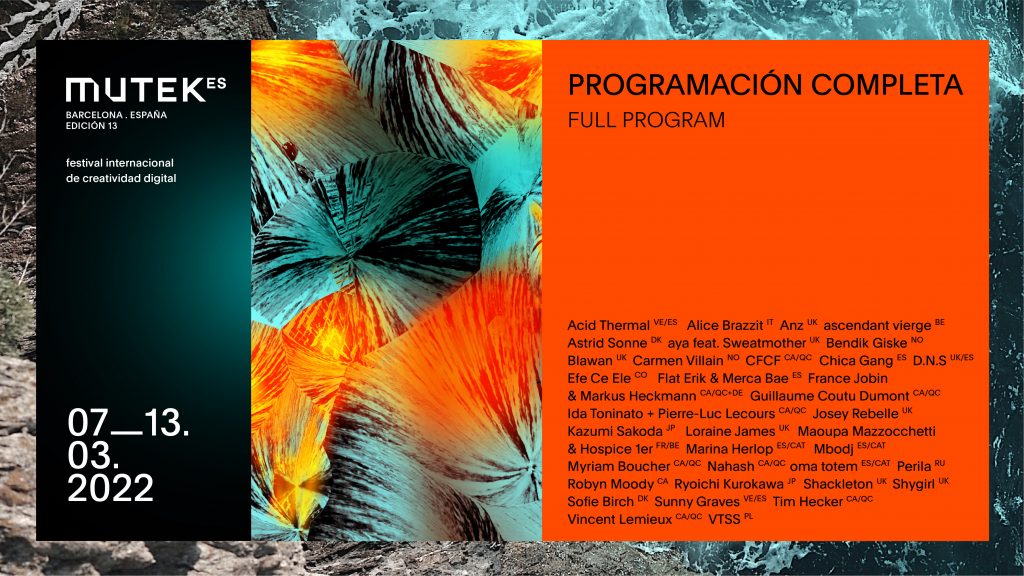 https://barcelona.mutek.org/  for Tickets & More Info
Once again this year, the festival will transform the incomparable setting of the Antiga Fàbrica de Estrella Damm into a great sound and visual experience with Carmen Villain (NO), Bendik Giske (NO), Marina Herlop (ES), France Jobin & Markus Heckmann (CA/QC), Ryoichi Kurokawa (JP), aya & Sweatmother (UK), and Nahash (QC/CA).
More about artists:
Marina Herlop's universe reaches beauty without renouncing complexity, which makes her one of the most brilliant, restless and interesting composers in our country. After signing with the influential PAN label, Marina has become one of the most interesting and promising artists in our country.
France Jobin and Markus Heckmann premiere their performance 'Entanglement', an artistic-scientific project inspired by the concept and properties of entanglement in quantum physics and quantum fields, based on theories such as the interpretation of Copenhagen and the multiverse (quantum decoherence), or the fluidity of time.
For the first time in Spain, the newly released live of aya together with the visuals of Sweatmother. With "im hole" (Hyperdub, 2021), the British artist has signed one of the most personal albums of this year, where not only club music is deconstructed but also language, dialect, gender and sexuality.
Nahash , alias of the artist and producer of labels like SVBKVLT (SHangay), has been for years motivated to generate soundtracks around the idea of the end of the world. He will debut with the A/V show of his album "Flowers Of The Revolution" (2020), a work that he feels really current as it evokes a pre-apocalyptic environment which resembles the world we are living in.
MUTEKES will also collaborate with the excellent Norwegian label, Smalltown Supersound with a showcase of artists from the label which will include Bendik Giske y Carmen Villain.
Giske returns to Barcelona after his successful appearance on MUTEK Connect's Caterina Barbieri show. Bendik Giske's saxophone is a pure extension of his body. It matches the Norwegian composer's intense physicality; his total vulnerability, joy and artistic expression. Drawing on his own queer perspective, Bendik expands the concept of club music through rhythmically textured compositions and visceral performances.
Under that Latin pseudonym hides Carmen Hillestad, a half-Norwegian, half-Mexican artist and producer who has spent the last 9 years and 4 albums gently unravelling the song into the sound of emotional momentum. Carmen Villain arrives at MUTEK Barcelona 2022 with her fourth album under her arm. It is 'Only Love From Now On', a work also released by Smalltown Supersound in February 2022 that presents Villain's aesthetic blossoming into something unexpected, benevolent in its composure and totally exuberant in its sensuality.
The Japan Foundation is joined by artist Ryuichi Kurokawa presenting for the first time in Barcelona his work. "assembly / subassemblies", a project co-produced in 2019 by LOXOSconcept (Matera 2019), MUTEK, Stereolux/Scopitone and TodaysArt, in which he investigates the relationship between nature and the impact of human activity through an architectural scale perspective: ruins, buildings invaded by nature, badly preserved architectures that overlap and are dynamically rebuilt. The aim is not only to broaden the perception of floating between nature and man-made, but also between abstract and concrete phenomena through their transition, destruction and renaturalization.
*France & Markus are part of the delegation of Québec artists that #MUTEKES13 presents as part of the celebrations of the 25th anniversary of the Treaty of Cooperation between Catalonia and Québec.