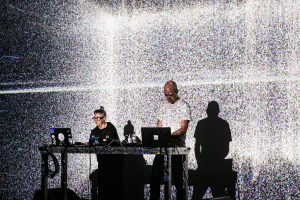 IMMERSIVE SOUND NIGHT
Mixing Plant
01.06 , 21 – 24 h
Admission is free.
With France Jobin & Markus Heckmann
and more
Immerse yourself in electronic-audiovisual soundscapes with the "Immersive Sound Night" during the inaugural evening on the 1st of June. In collaboration with MUTEK Montréal, a festival for the promotion of electronic music and the digital arts, NEW NOW presents international artists who will fill the Mixing Plant with experimental electronic sounds and visuals. Against a unique industrial backdrop, the result is an immersive audiovisual experience that was already very well received last year.
Do 01.06.
21:00
22:00
ENTANGLEMENT
Admission is free.

At the crossroads between scientific research and audiovisual art, "Entanglement", developed by France Jobin and Markus Heckmann takes its inspiration from the physical phenomenon of quantum entanglement and quantum field theory. With this artistic project, the artists studied the two dominant theories of quantum entanglement: the Copenhagen interpretation and the concept of the multiverse. In addition to these two theories, Jobin and Heckmann also took a closer look at the fluidity of time. This intensive research resulted in an ambitious and immersive experience that premiered in 2021 at Montreal's MUTEK festival (NEW NOW cooperation partner) and can now be experienced for the first time in Germany in the impressive rooms of the Mixing Plant.
Partner: