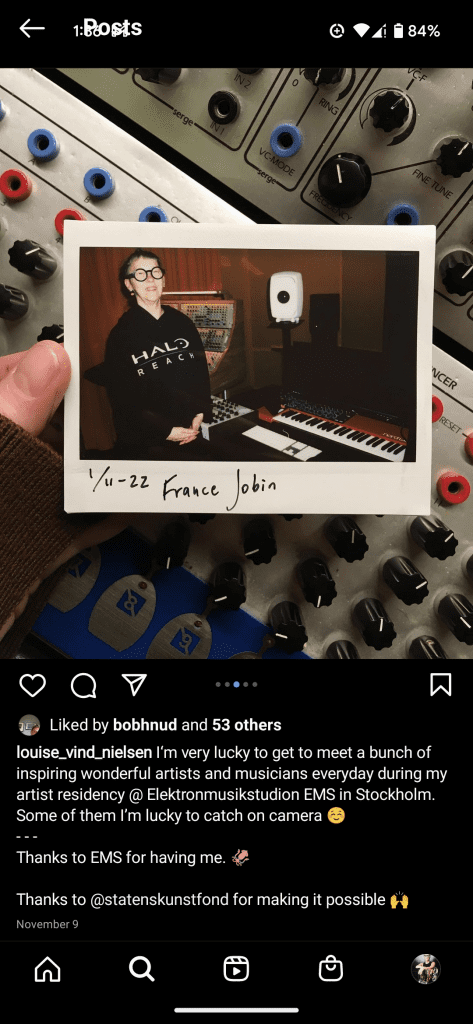 France was guest composer at EMS 24 October – 2 November, 2022
France spent 10 days working with the Buchla 200, the Serge, the nord modulars and
the syntrx by Erca Synth. She managed to build a brand new sound bank which will be used
for many upcoming album that have ben commissioned.
France Jobin is a sound / installation / artist, film composer,
and curator residing in Montreal, whose audio art can be qualified as "sound-sculpture", reveals a minimalist approach
to complex sound environments where analog and digital intersect. Her installations incorporate both musical and visual elements inspired by the architecture of physical spaces.
Her work can be "experienced" internationally in a variety
of unconventional spaces and new technology festivals.

Jobin has solo recordings on many renowned labels. Her sound art is also part of countless compilation albums. While her music often makes use of restraint and limit, she isn't one to shy away from extremes. Her skillful interplay between highs and lows, louds and softs, creates an intricate narrative, which stretches the listener's perception and continually refocuses attention.

In 2021, she presented the world premiere of Entanglement AV with Markus Heckmann at Mutek Edition 22. Influenced by theories in quantum physics since 2008, the pandemic has allowed her time to study and dive into this scientific universe. Entanglement is the first iteration of this large-scale project.
In 2020, she composed the soundtrack for Ouroboros – Maxime Le Flaguais's first short film. In November 2019, she presented her first modular concert (Buchla 100) at the Ernst Krenek Institute in Austria.

She has performed and exhibited at a number of different locations world wide. France Jobin's work continues to evolve as technologies enable her to create new environments.

She is published by Touch Music/Fairwood Music UK Ltd.