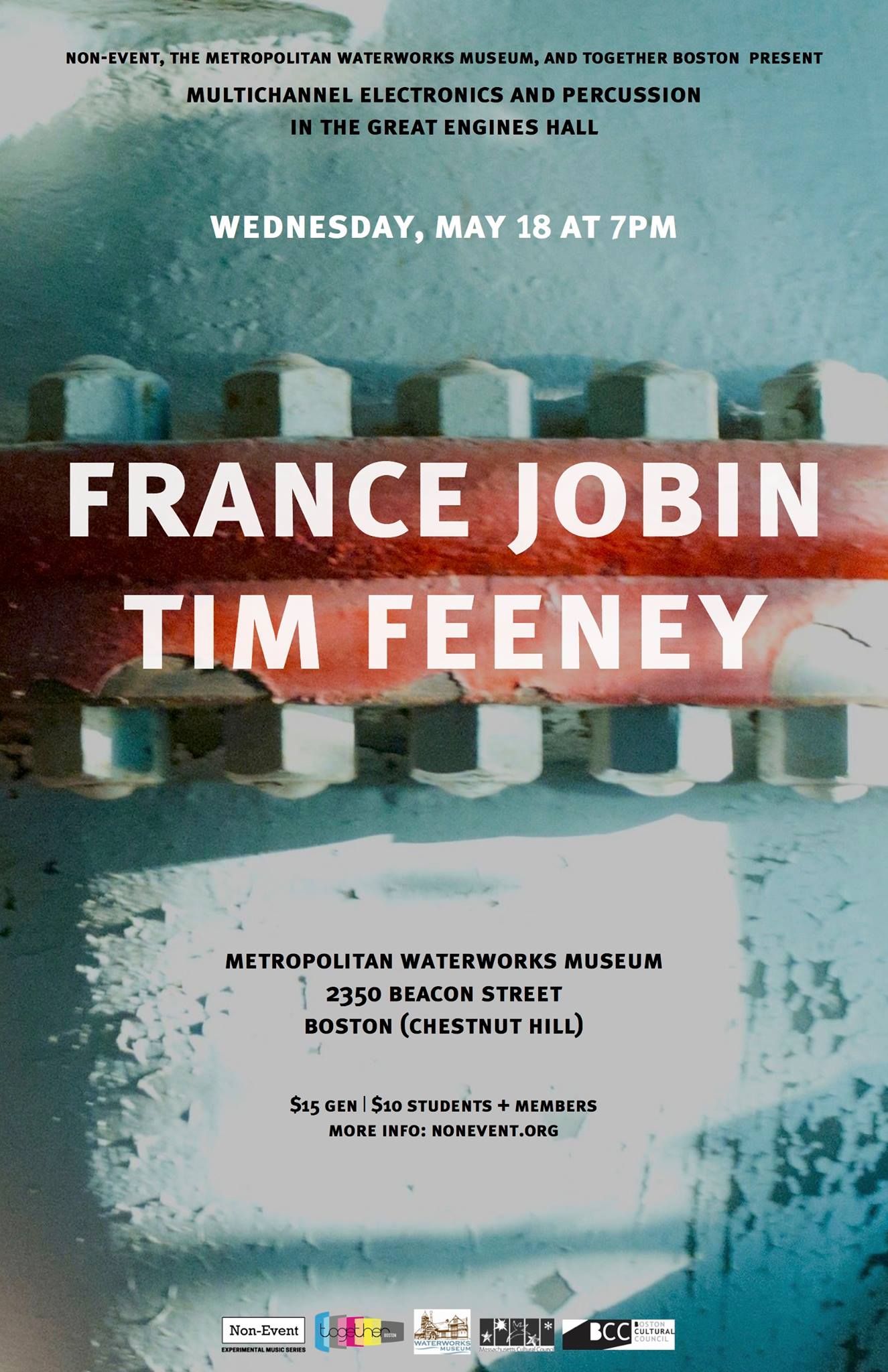 Wednesday May 18th 2016, 7pm-9pm
Metropolitan Waterworks Museum
2450 Beacon St, Boston, Massachusetts 02467
Non-Event, the Metropolitan Waterworks Museum, Together Boston, and WZBC present:
France Jobin (MTL, multichannel electronics) + Tim Feeney (US, percussion) performing solo sets in the spectactular Great Engines Hall of the Metropolitan Waterworks Museum.
About the artists…
FRANCE JOBIN is a sound artist, composer, and curator residing in Montreal, whose audio art reveals a minimalist approach to complex sound environments where analog and digital intersect. Her installations incorporate both musical and visual elements inspired by the architecture of physical spaces. Her work can be "experienced" internationally in various music venues and new technology festivals, such as Mutek, Flussi, FIMAV, SEND + RECEIVE, Club Transmediale, ISEA RUHR 2010, and surface tension tour Japan. She has releases on Dragon's Eye, LINE, Room40, ATAK, and non-visual objects.
TIM FEENEY has performed as an improviser with musicians including the trio Meridian, with percussionists Sarah Hennies and Greg Stuart, pianist Annie Lewandowski, cellist and electronic musician Vic Rawlings, vocalist Ken Ueno, saxophonist Andrew Raffo Dewar, banjo and electronic musician Holland Hopson, and many others. He has toured throughout the United States, including notable performances at Boston's Institute of Contemporary Art, New York's The Stone, the Center for New Music and Audio Technology at UC-Berkeley, the Stanford Art Museum, Mills College, Princeton University, and Oberlin College. Most recently, he has performed in quartet and large ensembles with composer and saxophonist Anthony Braxton, with whom he recorded for the Tri-Centric Foundation for release in 2016. He has also recorded for Caduc, Accidie, Full Spectrum, Sedimental, homophoni, Audiobot, Soul on Rice, lildiscs, and Brassland/Talitres.