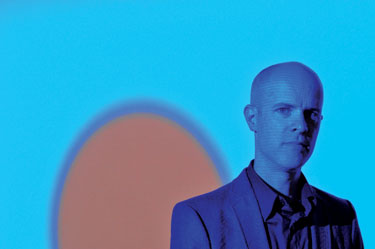 (Photo by Todd Franson)
An early love of synth-pop helped Richard Chartier find his passion in the field of sound art
by Doug Rule
Published on October 13, 2011, 3:00am
"In the '80s, I was a synth-pop boy," says Richard Chartier. "I was very into that." But unlike many or even most synth-pop fans, the 40-year-old avant-garde sound artist was more interested in the "synth" (short for synthesizers) than the "pop," the technology over the music.
"A lot of synth-pop bands were not musically trained," Chartier explains. "[Synth-pop] was all about this new technology and seeing what you could do with it, and pushing it." The D.C.-based Chartier also has no formal music training. His work in sound art over the past two decades has been essentially self-taught, honed in no small part through advances in technology. Naturally, Chartier started experimenting with creating sound using synthesizers, egged on by his love of synth-pop. "The more I got into experimental music, I became compelled to create my own work," he says. Chartier's work is characterized by quiet, subtly shifting sounds, in a minimalist strain of sound art known either as "microsound" or Neo-Modernist.
Over the past decade, the Hirshhorn Museum and the Corcoran Gallery of Art are just two among many leading museums to have included Chartier as part of sound art presentations. New York's Whitney Museum of American Art is another, selecting Chartier to be part of its prestigious Whitney Biennial in 2002.
At the moment, Arlington's Artisphere presents a sound and video new media show curated by Chartier and featuring five international artists all making their D.C. debut with the show. Chartier says the focus of "Data/Fields" is on "our perception of data, which is how we experience the world."
That may make it sound a cluttered, cacophonous mess, much like our drowning-in-data modern world. "Oftentimes, you go to shows and there's just too much, especially when it's new media," Chartier concedes. "If you have too many things going that make sound, it just becomes a big ruckus."
But Chartier took great care to make sure that didn't happen with "Data/Fields," giving it a story-like structure and focus. "I wanted something that was very clean [and] refined to the point where visitors couldn't actually experience each work individually without seeing the other works," he says. "It has a very defined flow."
"All of the works are experiential or participatory in some way, and it's all time based," he continues. France Jobin's sound piece Entre-Deux, for example, cycles for 144 minutes. So what you hear at any given moment is different than what someone else hears 20 minutes, or even five minutes, later. Another piece, Mark Fell's Tone Pattern Transactuality, features shifting patterns in both sight and sound, which you appreciate through projected video and headphones. It's a generative work, so it's constantly changing itself based on mathematics."
Chartier grew up in Springfield, Va., and studied graphic design and painting at Virginia's James Madison University. He initially worked as a freelancer in both areas after graduating and moving back to the D.C. area in the 1990s. But his days as a visual artist were limited. "I felt like sound was a much better way to communicate the spatial, experiential qualities of what I was looking for."
Some people in D.C. may remember Chartier from his days as a DJ a decade ago. He was something of a regular at hip lounge-style events, including what the gay man calls a "pansexual" party called Filler at Adams Morgan's former Blue Room. The focus was on alternative, experimental electronic music, or even just "wacky" synth-pop. Chartier has mostly given up DJ'ing in recent years, though. "It's just kind of tiring," he says. The whole field of sound art is a relatively new area, aided by the spread of affordable, portable technology. Technology has certainly enhanced Chartier's efforts in the field. After he first dabbled with synthesizers 20 years ago, focused on creating "droning loopwork," Chartier says he didn't really return to sound work until he got an Mac in the late '90s. Soon after, he started his own record label LINE.
But Chartier adds that technology only goes so far. "I love limitations on things," he says. "I could have all of this software, and all this crazy this and that, and pay thousands and thousands of dollars for the latest whatever. … But you have to make those things have your voice."
Richard Chartier performs with Mark Fell on Wednesday, Oct. 19, at 8 p.m., and the exhibit Data/Fields runs through Nov. 27, both at Artisphere, 1101 Wilson Blvd., Arlington. Call 703-875-1100 or visit artisphere.com.