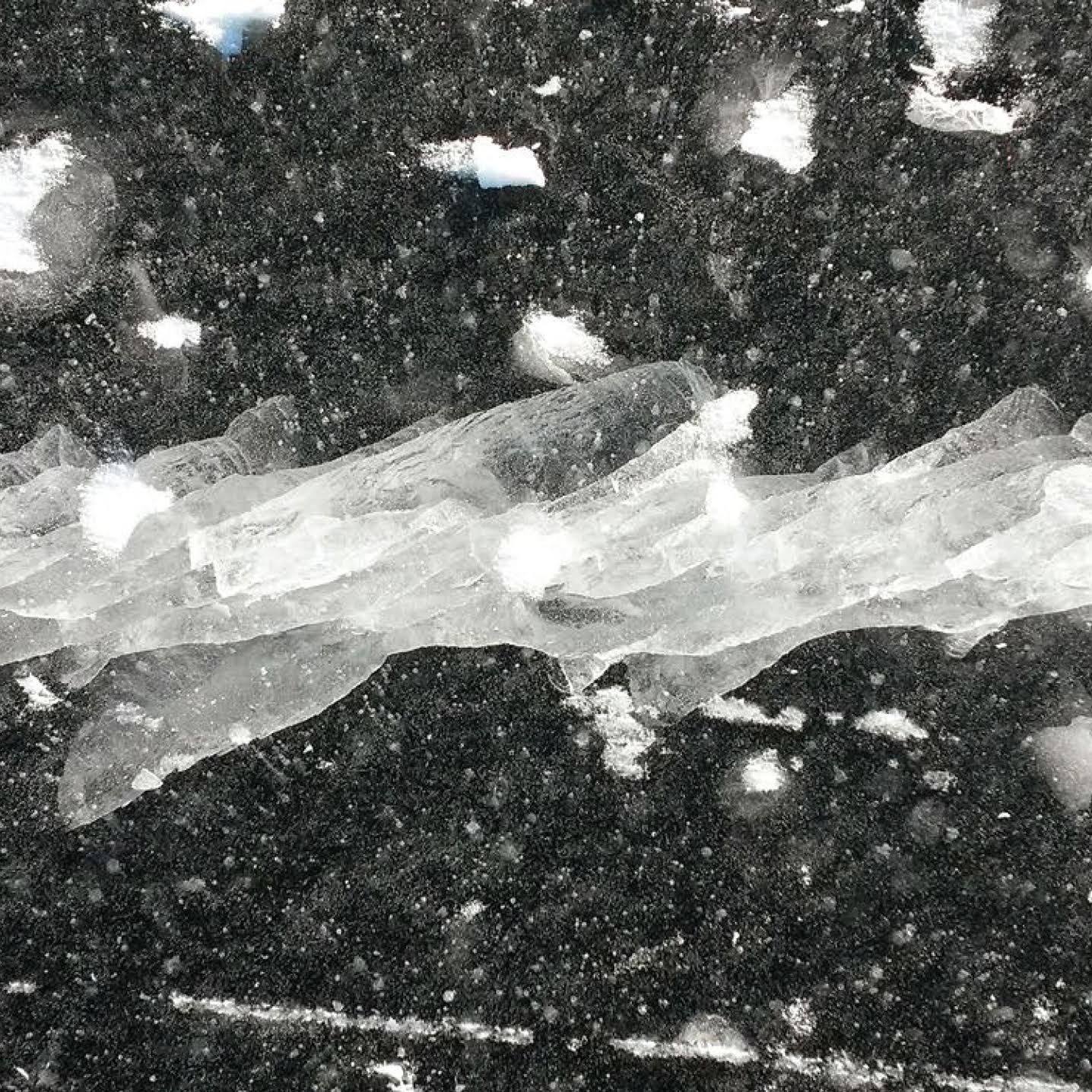 LINE_075 | CD + Digital | limited edition of 400 | February 2016
Here's another release from the esteemed Line label, presented in its usual format: a simple, sombre, card wallet. The front has an odd, black and white image – perhaps a collage, perhaps a magnification of cells – whilst the back contains track details, and a short spiel on the release from Jobin. The spiel explains that the album was created by putting field recordings 'through a series of editing and manipulation processes'. Singulum has four tracks, ranging from six and a half minutes in length, to nearly 17 minutes.
Given that her spiel is quite high-minded, 'Singulum represents an unattainable goal, the process of decay while conserving a continuation of information', and mentions Serge and Buchla modular synths amongst her tools, Jobin's album is actually often rather conservative ambience and drone. Though that's an observation, not a criticism. The first, and longest, track, n, slowly builds upwards and outwards from a simple loop. Whilst simple, the floaty, ethereal loop is detailed, and accompanied by glitching sounds. It builds into a piece of dreamy ambience, effortlessly creating an atmosphere that might require a reviewer to describe 'sunlight reflecting off rippling pools' – trite, but reasonable words for a gorgeous soundscape. As the piece progresses, the glitching sounds become bolder; crushed, and squashed sounds splinter and fragment over the lush drone. After the 10 minute mark, the drones become deeper, more resonant, before dissipating in the final minutes to reveal a looping chime, like a distant grandfather clock. The second, and shortest, work, l, again begins with looping sounds; this time, its ambient patches. These create an ambient expanse, with background burbles, and snips of sound – they really are backgrounded, too. About halfway through, an ominous drone appears, creating a more sinister tone, but also one imbued with much grandeur. This drone magnifies in strength, until it essentially smothers everything. M, the third track, follows a similar path; it begins with dreamy territories, before again building to almost overwhelmingly deep drone – with a distracting buzzing in one speaker along the way. The final piece, s, is cut from a similar cloth to the preceding tracks, but offers different readings. It starts out as a stately, measured drone, strong and warm. After a while, a repeated figure emerges over the drone, a melodic stab; this creates a tone akin to the work of Burial – the melancholy of empty urban streets at night, dirtied by litter, and cleansed by rain. It sounds like a piece of club music, slowed down, and with the beats removed – the hazy memory of the night before.

Singulum, from the packaging, suggests an album of difficult abstraction, perhaps driven by physics, and lead by high-end synth technology. However, whilst there are elements that might reflect these hardboiled things, the truth is that any sonic austerity is largely hidden, and backgrounded. The central focus of the release is much more amenable drone work, often lush and gorgeous in its simplicity. The last track, s, is particularly nice, and evocative. (The track titling is a bit of a mystery, clearly deriving from the consonants of 'singulum' – but where's g?) There's a danger, perhaps, that the album occupies a halfway house – too glitchy and odd for drone lovers, too much expansive drone for lovers of synth abstraction – but the rigour of the artist, and her tools, is felt throughout the pieces: nothing here is ever cheap or insubstantial. Like all Line releases, Singulum asks for (and deserves) close listening, and like practically every Line release I've heard, this is worthy of your listening.
Martin P.