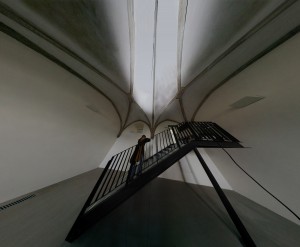 Tell me about your philosophy/event series, immersound. It's fantastic to see that sound is being presented in an environment where every aspect of the experience is taken into consideration (lighting, sound reproduction, physical comfort etc). How and why did the series begin? How is the space itself optimised for the listener experience?
The series began following a lengthy reflection on the listening process of audio art within the framework of public presentations. Experiences I encountered, both as a sound artist and member of the public during various audio art performances, led me to realize that a proper context of presentation for minimal sound art was clearly needed. I set out to create an event in which I would like to perform in, one dedicated to the listening environment by focusing on the physical comfort of the audience through a specifically designed space. My premise for immersound-immerson was simple:  if people are physically uncomfortable, they are not in a state "to receive" challenging, minimal sound art; if they are comfortable, they will be more receptive.
I consulted with Stéphane Claude, Head of Research of the media lab's audio sector at the artist centre Oboro, where immersound-immerson has been held annually since 2011. I shared my thoughts about having the audience lying down and we decided to use a 6.1 surround sound system and 26 zafutons (Japanese style cushions) specifically made for the event, in order to transform the space into an intimate listening room.
The zafutons are placed on the floor inside a perimeter defined by the speakers which are set up around the room low to the floor, using special stands that enable their positioning at an angle toward ear level. A "shower" of small speakers hangs from the ceiling in order to create a continuous multidirectional movement in constant flux. Only the speakers are lit by low intensity blue ceiling lighting, dimmed at the beginning of the performance.
I find it very important to set the right mood for the evening. I have people waiting outside of the concert space when they arrive, as a playlist created for the event unfolds in the background. The atmosphere is quite relaxed and gives people a chance to wind down from their day as well as creates anticipation for the event. When all is ready, I bring 2 – 3 people at the time through this dimly blue lit anti chamber where, for a moment, they are literally in between 2 worlds,  this enables me to draw them in so that, at the moment they enter the space, their mood is already set.
immersound_architecture
Such an emphasis on listening environment brings me back to thoughts on your most recent record, The Illusion Of Infinitesimal. The nature of your sounds – delicate, low in volume – evoke an awareness of my own listening space and the noise within it. Is there any particular reason behind your preference for quieter constructions?
The decision to move towards quieter dynamics and constructions happened gradually as I began questioning myself musically and I felt no longer challenged. One moment in particular stands out, while listening to Miles Davis' Kind of Blue, it occurred to me that I may have been looking at this all wrong. I thought of a staff and notes and wondered: "what if it's not the notes that create music, but the spaces between the notes, the rests and silences?" I applied this concept to my approach in programming sounds, it subsequently led me to minimal sound art, which, in turn, led to a new-found interest in science, quantum physics, the elegant universe, and the tiny world of particle science.
I discovered that presenting quieter works engages the listener in a different manner regarding their listening habits. Quieter dynamics does confront one to one's act of listening, perhaps there is a need to re-educate ourselves. We often listen now while being busy doing many different things. I am hoping to make people stop and listen, simply listen.
Do you have a personal favourite space in which to listen to The Illusion Of Infinitesimal (that is, if you listen back to your own work at all)? For me, the record struck its most potent connection when I listened on headphones in one of empty meeting rooms at work, long after everyone else had gone home.
I am more inclined to listen to the work I am currently involved in rather than past works.  However, I did spend a lot of time listening to The Illusion Of Infinitesimal during the mastering phase. These were very "concentrated listening" sessions taking place in my studio.
Is there a particular set of circumstances (time, location, disposition) that you find optimum for composing your music?
Part of the liner notes I wrote for Valence on LINE convey my state of mind best: "my compositions start with a feeling or emotional state. There is a likelihood of finding a certain emotion in a piece, but it is not guaranteed, nor do I know exactly when or where I will find it. The act of looking for that emotion in of itself will distort it." This still holds true today.
My studio is my place of choice for programming sounds and composing. All that is important to me relating to music and art is in this room. I have my equipment, gear, monitors, my father's old 35m camera, projector and editing table. The walls are painted neutral grey in order to minimize distractions. Only one print on the wall facing me, Mono.Poly.Chr Print by Richard Chartier, based on his designs for the 2 double cd releases on LINE by Bernhard Günter. This print is a solid grounding force.
You were recently involved in Quark: How Does The Invisible Sound?, which came out last month. Can you tell me about your own contribution? How did you find the experience of using the Cconfin software?
Quark's approach was defined by its creators, Fabio Perletta (farmacia901) and Ennio Mazzon, Cconfin (custom software).
The project is based on the intent of exploring the possible inter-relationship between sound and the invisible, strictly related to science and physics.
I was thrilled to participate in this project, it enabled me to delve deeper into areas of science I have been interested in. Cconfin, the software, is inspired by elementary particles interactions and a physical phenomenon known as Colour Confinement, the software defined the guidelines for programming sounds.  I managed to explore melodic textures to create a work that holds a visibility that is not quite discernible.
You refer to your pieces as "sound sculpture" in your website biography. I've spoken to a number of other artists who perceive their work as "sculptural", although the interpretation of the term has been different on each occasion. How is your approach to your work informed by your perception of it as "sculpture"?
If I may start with a small parallel, an architect creates works that occupies a space, I would say I create sculptures that fit in the flow of time and perception. The environment architecturally shapes the pieces and how they will be heard. In installation and concert works for instance, I may position speakers in specific ways to respond to the architecture therefore creating a sound sculpture without it being an object. It is about presenting a work that is much different that what one hears, dependent on one's placement.
You also put together a wonderful sonic self-portrait for our livingvoid compilation. Can you tell me about your own interpretation of the term "self-portrait", particularly in a sonic context?
For me, the term self-portrait elicits feelings of awkwardness and artistic nudity.  In finding that nudity, as painful as it may be, I began by peeling away superfluous layers of sounds in order to uncover their true essence. The time limit imposed by the project led me to apply this notion of "removal" to both sound and time simultaneously.
What's next for you? 
Following The Illusion of Infinitesimal on Baskaru, the vinyl album sans repères is being released in Japan on the new popmuzik label in the spring- early summer.  In late May, I will present a concert at Manif d'Arts, part of Guérilla du bruit series in Quebec city, and the world premiere concert version of sans repères at EM15 (ELEKTRA MUTEK 15) in Montreal.
In June, I am presenting immerson 6, and after, I will be off to Italy for 2 concerts and residencies being held respectively by Portobeseno festival in Trentino, and Liminaria 2014 (Interferenze festival) in the Fortore region. I will return to Italy in August to play at Flussi Festival. Another tour in Japan as well is in the works later in 2014 or early 2015.
Finally, a new collaborative audio/visual project entitled "Mirror Neurons":
Sound : France Jobin and Fabio Perletta,
video by xx+xy visuals.
You can view a short promo here : http://vimeo.com/95506484