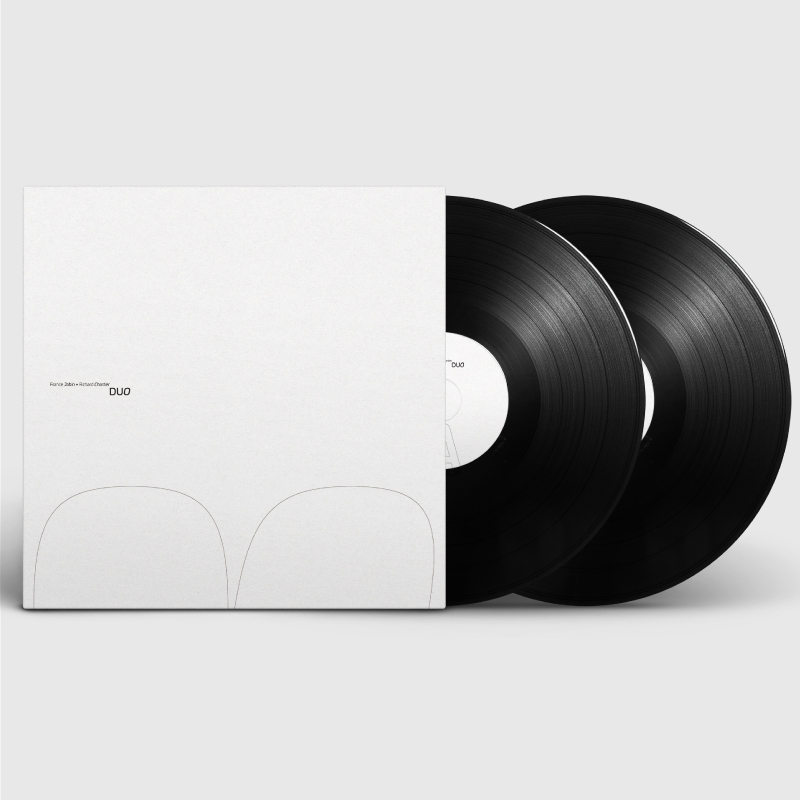 My ears have been open to both these artists since the late 90s/early 00s, and though they have each evolved in direction over these decades, and I've heard collaborations they have done with others, separately, this may be the first time I'm hearing them play in both ears at the same time. A natural pairing. Both use subtleties to a fault. Both create an atmosphere of voluminous, restrained suspense that looms in space. And together it becomes more amorphous and wide.
The duo offers five long tracks which "creates an "intemporelle" and pervading atmosphere" that are like the fault lines on thin ice (DUO.1), yet also have the ferocity of a jumbo jet poised to take flight. With the incredibly sensitive mastering by Stephan Mathieu, these two are in the best hands to allow their luxe patina to be showcased as quiet and raw where need be. The sensation, like floating amid embryonic fluid (or in a bath of ash), comes to mind.
There's a tension of being on eggshells on DUO.5 that is quite palpable, in waves, almost industrial, yet triggered by a ghostly reverberation. The containment of static noise (or is it heavy rainfall?) is complex, and continues into the next track with an even deeper sense of query. Here on DUO.2 a sonic hum twists over and around the continued undertones in the 'wall of sound' just as a new reticent melody starts to emit into the cracks. A refreshing break of coloration perfumes the space, distancing itself from the pressurized mechanisms and sonic scape, yet also remains somewhat fleeting. I'm reminded of flying insects, buzzing by, teasing their variegated color, and away they go, free to the wind.
This may be considered minimal, but it's quite complex. This may be assumed ambient, but it's far from it. Instead, these artists, who on their own have created a world of micronoise, austere pixelations and other funky sounds, have fused a much larger picture from all sorts of finer parts. In fact, if I didn't know better I would say DUO.3 was actually a prepared church organ in its bloated oscillation. Through patches, programming and patience Chartier and Jobin superimpose a meta world soundscape that breaks from either of their own traditions, offering a stimulating hybrid.
As this glorious sense of suspension arises and stays awhile there are other moments of contemplation. In the same stroke there is this continued fleeting sensibility that fills the air, like an impending end. On the closer, DUO.4, this only becomes much more dramatically paced at first, but within about four minutes, in a rush of circulated drone, minimal hiss and velocity, brings about a more organic sound. Together they develop a dreamy fusion of harmonic curvatures bathed in duly signature vintage vinyl imperfections, pop, crackle, etc. Towards the end the balanced nature of this blend becomes distorted, entangled, and somewhat flying saucer-like in retrospect. Satellites soften and shut down slowly in fading, static sonics.
TJ Norris (December 2018 Toneshift (USA)