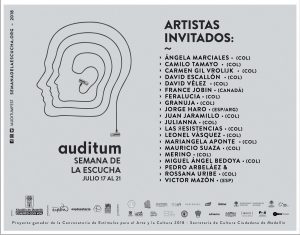 France Jobin will be travelling to Medellin, Colombia in July and September 2018, to take part in an international residency organized by Éter Lab and Museo de Arte Moderno  Medellin..
The first half of the residency will take place July 12th -26th 2018 during Auditum Festival – Semana de la Escucha.
July 18th 2018 – 10 a.m. to 1 p.m.
She will be teaching her Masterclass Intro-specciòn Medellín – un taller de arte sonore at Museo de Arte Moderno  Medellin. – LAB 3
Cra. 44 #19a-100, Medellín, Antioquia
In spanish only:
Escuchando desde adentro – La arquitectura del sonido y nuestras expectativas.
La instalación, la música y elementos visuales inspirados por la arquitectura y el manejo del espacio, convergen en el trabajo de France Jobin, artista sonora, compositora y curadora de Canadá. Es reconocida por sus "esculturas sonoras" en tiempo real que revelan una aproximación minimalista a paisajes sonoros complejos, mezclando influencias digitales y analógicas.
En este taller, la artista introducirá su práctica, específicamente los aspectos alusivos al sonido y los espacios; las relaciones de estos sonidos con la música tradicional, el cine y otras características de la experiencia de la percepción sonora en su sentido abierto a las diferentes formas de la escucha.
"La sinestesia que se produce en los espacios arquitectónicos es la la fuerza que me impulsa a explorar el sonido. Mientras un arquitecto hace diseños pensados para ocupar un espacio, yo me intereso por elaborar esculturas de sonido que encajan en la fluidez del tiempo y la percepción. El entorno, por ejemplo, le da forma y un carácter arquitectónico a mis piezas y a su sonoridad. Por otro lado, cuando hago instalaciones y conciertos tiendo a ubicar parlantes en lugares específicos que tienen correlación con la arquitectura del espacio. De esta manera logro esculturas sonoras que no son necesariamente objetuales".
July 20th 2018
She will also present Inter/sperse* at Domo del Planetario as part of the program Micro-estruendos en el domo.
Artistas: Carmen Gil Vrojlik (COL) · France Jobin (CAN) · Merino (COL)
In spanish only:
Un vuelo por el espacio fulldome, microsonido y ambient en el Domo del Planetario, hoy espacio de tradición en nuestra celebración anual. Concierto de cierre de la Semana de la Escucha 2018, una exploración abierta de la escucha en la inmersión y la quietud.
La Quinta del Lobo (Carmen Gil Vrojlik y Camilo Giraldo) · HYBRIS Fulldome
Esta propuesta para el formato fulldome parte como un vuelo por el espacio, por la representación en diferentes culturas de constelaciones como dioses y seres híbridos que a su vez se unen con los humanos y crean otros seres, que se aparean con bestias y crean otras bestias, que a su vez arrasan con su entorno. ¿Qué pasa con el híbrido que se cruza con otro híbrido?
Merino · Ambient DJ Set · Acostumbra un techno hipnótico, un ritmo telúrico que ha sabido ubicarse en la pista de baile pero esta vez se ubica en una postura acusmática, explorando el ambient desde el arte de la mezcla y la escucha atenta de un espacio normalmente ocupado por el beat.
France Jobin · Inter/sperse · Concierto nacido como adaptación de la instalación creada por la artista para sitio específico en el territorio y alrededores del

 Museolaboratorio

 (Città Sant'Angelo, Pescara) en Italia, con el apoyo del programa de residencias LUX, Museolaboratorio, 901 editions y el Conseil des Arts du Canada.
 "Ser afectado por la sinestesia en una forma positiva con respecto a los espacios arquitectónicos, es la fuerza que me impulsa a crear exploraciones con sonido. Un arquitecto diseña trabajos que ocupan un espacio; Yo diría que me encargo de construir esculturas sonoras que encajan con el flujo del tiempo y la percepción. Para mi, el entorno arquitectónicamente moldea las piezas y cómo deberán ser escuchadas." – France Jobin
A very special thanks to Miguel Isaza!
with the kind support of:
Canada Council for the Arts | Conseil des Arts du Canada


Éter-Lab, Museo de Arte Moderno Medellin
*Inter/sperse is a concert adapted from an in-situ sound installation that addressed the territory and surroundings of Museolaboratorio (Città Sant'Angelo, Pescara) which was supported by the LUX residency program, Museolaboratorio, 901 editions, Conseil des Arts du Canada.