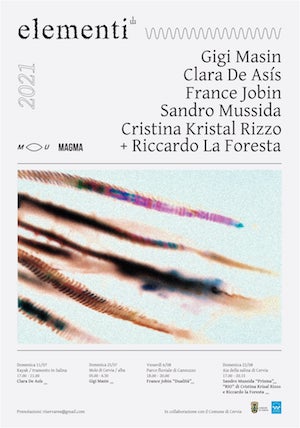 WALKING…!!!
On August 6th ELEMENTI is back for a special event in the Savio River Natural Park in Cannuzzo di Cervia.
The project consists of a Soundwalk during which participants will listen in their headphones, via their smartphones / iPhones,Duality, an electronic composition by Canadian artist France Jobin, produced to be enjoyed on the road and exclusive to the Savio River routes.
fb EVENT -> 𝙁𝙧𝙖𝙣𝙘𝙚 𝙅𝙤𝙗𝙞𝙣 "𝘿𝙪𝙖𝙡𝙞𝙩𝙖̀" ☼ Soundwalk nel parco fluviale di CannuzzoFree participation with booking required: riservaree@gmail.com___ ELEMENTI by MU and MAGMA in collaboration with the Municipality of Cervia.
'Dualità was inspired by the photographs and field recordings of Enrico Malatesta and Glauco Salvo.
While looking at the photographs, I listened to the field recordings to establish how I would process the sounds in order to create a piece that would evoke the feelings and emotions triggered by the visual.
This unlikely collaboration took form by adapting to the pandemic. It enabled me to create a composition in a virtual in-situ context. A walk between the village of Cervia to Cesena along the river Savio, heard through my ears, a continent away.'
France Jobin