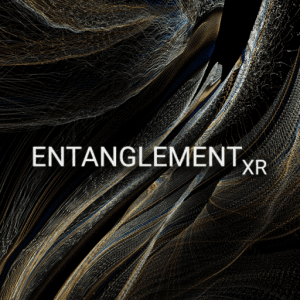 Mutek Immersive collection will be at Sónar Barcelona in June 2023
Project Area – Realities+D (AR/VR)
Lost worlds, surreal environments and alternate realities
Immerse yourself in a showcase of the most creative augmented and virtual reality experiences around at Project Area this year. There'll be downloadable apps for you to test on your mobile device throughout Sónar by Day, plus 14 different virtual reality projects to be experienced, covering lost worlds, surreal environments, and alternate realities.
Discover our first three XR artworks
As a festival presenting cutting-edge audiovisual performances — works that innovate to create a new language of sound and images — we have always strived to accompany artists across new boundaries of technology. 2022 opens up a new chapter for MUTEK, marking our first steps as an Extended Reality (XR) content producer. Five artists have stepped up to the challenge of reinventing a past festival performance into an XR artwork. The result is an eclectic yet coherent set of three different XR projects ranging from contemplative to surreal to dynamic: Entanglement XR by France Jobin & Markus Heckmann, House of Moiré by Chloe Alexandra Thompson & Matthew Edwards (aesthetic.stalemate), and Immortelle by Line Katcho
Published by MUTEK on several online content stores, starting with Steam, the Immersive Collection will also join the catalog of Astrea, the largest international distributor of immersive productions, and be presented at select festivals and spaces worldwide.
See below for more information about the artists and their projects.

World premiere during the MUTEK Festival: August 23-28 2022 — esplanade Tranquille, Montréal
Autumn 2022: Mexico city, Mexico: MUTEK Mexico | Tokyo, Japan: Beyond The Frame Festival | Rotterdam, Netherlands: Immersive Tech Week Rotterdam
Winter 2022-2023: : Tokyo, Japan: MUTEK Tokyo | Rajasthan, India: Magnetic Fields Festival | Miami, USA: FilmGate Festival (Miami Art Week)
Download the Immersive Collection onto your VR headset
Optimized for Quest 2, Quest + Link, Rift.
Immortelle available on Steam & Viveport (links below).
House of Moiré and Entanglement XR can be wishlisted as of now (links below).
Publication on further content stores in progress.
Follow MUTEK on Steam

We acknowledge the support of the Canada Council for the Arts.