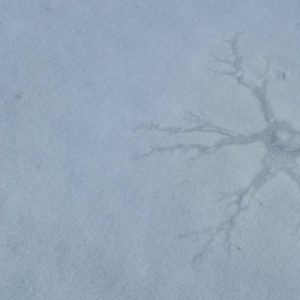 Scènes LINE_ 093|   Digital | November 2017
The various interlocking scenes of experimental and ambient music are geographically dispersed but nonetheless close-knit, and the effects of significant events in these genres ripple out far and wide. Such was the case with the untimely death of Mika Vainio, a founder of Pan Sonic and producer of numerous landmark recordings under his own name and the moniker Ø, in April 2017. "scènes" is Canadian sound artist France Jobin's tribute to her friend, offered in her own distinctive language of minimalist ambient music.
The album fades in with a warm breathing chord, joined later by steadier tones. The music is quiet and subdued, barely there at times, before returning with slightly more intensity. The second 'scène' is more present, with major key tones gently tumbling over one another. A repeating melodic motif injects more energy, though the piece remains fairly quiet. The sense of calm and peace is palpable across the first half of the album, derived from major key harmony, low volume, and an unhurried pace.
The minor-key drone and fluttering, trembling tones of 'scène 3' make it the only track on the album to resemble a typical musical expression of grief. Mid-way through the piece, the drone fades almost to the point of inaudibility, then returns with stiller, more stable tones, losing some of the earlier distraught quivering. 'scène 4' also flutters, but rather than sounding distraught instead pulses with energy; to me, its driving rhythms feel like a positive celebration and affirmation of life. Music needn't shy away from pain or grief, but it is also able to remind us why we struggle. "scènes" is able to look sorrow in the eye, but at the same time remembers the good, and holds on tightly to the light.
Nathan Thomas (February 2018)