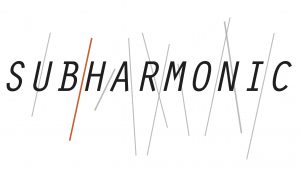 Live 6 channel concert at PICA – March 23rd – 6:00 pm
Field recording workshop March 24th – 11:00am
Panel: Exploring Sonic Practices March 24th 3:30 -5:30
Subharmonic: A Sonic Arts Symposium spans two immersive days of interactive workshops, thought-provoking panels, and live performances for artists and audiences of all experience levels to explore, discuss, and engage with a broad range of contemporary and experimental sound art and its influences. Programs will touch on electronic and noise music, video and light installation, film and video, space and architecture, racial and gender equity in the field, and more.
Both local and global critical ideas and creative practices will be shared, with a keynote presentation by sound art curator and practitioner France Jobin (Montréal) and performances and conversations featuring numerous local artists. Collaboratively curated by a consortium of local arts organizations and collectives, the full scope of symposium activity reflects a commitment to amplifying underrepresented voices in sound art and highlighting the depth and diversity of sonic art landscape, practices, and communities in Portland and beyond.
Schedule of Events
Friday, March 23
5:00 PM – Doors
5:30 PM – Opening Performance by SAMPLE, Portland State University, Laptop Ensemble
6:00 PM – 9:00 PM – SIX is a Portland, Oregon based, DIY, community-oriented, "surround sound" performance series with an emphasis on presenting local, regional, and international experimental musicians/sound artists in a multi-directional immersive listening environment. SIX offers the audience an opportunity to explore different ways of listening. For many participants SIX is a unique chance to explore performing through six separate channels. This will be the 12th SIX since 2008. Artists: Reese Bowes (Reliqs), Sage Fisher (Dolphin Midwives) + Chloe Alexandra, Marcus Fischer, and a keynote presentation by France Jobin
Saturday, March 24
10:00 AM – Doors and Coffee
11:00 AM – 12:30 PM – Field recording workshops facilitated by Burke Jam, France Jobin, and Chloe Alexandra. This workshop will involve groups of 15-20 participants, organized into a recording walk. Each group will explore sounds found within walking radius of PICA. Exploring natural, industrial, and climatological, acoustic ecologies, the workshop will focus on basic recording techniques, ways of listening, DIY tools and unconventional recording technologies. RSVP REQUIRED – USE THIS FORM TO SAVE YOUR SPOT.
11:30 AM – 12:30 PM – SIX Installation / Interactive Demo 15 minute demonstration of several sound-making objects which are amplified with contact mics, and mixed into the six-channel setup followed by a Q+A with Marcus Fischer and hands-on sound-making and panning to provide an experience that connects the soundmaking with the multi-channel possibilities.
1:00 PM – 2:00 PM – Using Your Voice With Modular Synthesizer
Facilitated by the S1 Synth Library and Alissa DeRubeis
20 Students, All Ages
In this hour long interactive workshop we will explore using voice in conjunction with modular synthesizers. We will cover some basic concepts and a simple signal flow we can use to patch our voice to a eurorack modular synth. Everyone will be encouraged to use their voice and turn knobs! RSVP REQUIRED – USE THIS FORM TO SAVE YOUR SPOT.
2:00 PM – 3:00 PM – Experimental Sound Collage with CDJS
Facilitated by the S1 Synth Library and Daniela Karina
20 students, All Ages
In this hour long interactive workshop we will explore sound collage and layering with multiple DJ set-ups. We will cover basic concepts of using CDJS and explore as a group to create soundscapes and unexpected layers & rhythms from field recordings, samples, and more. RSVP REQUIRED – USE THIS FORM TO SAVE YOUR SPOT.

3:30 – 5:30 PM – Exploring Sonic Practices
Artist Share and Discussion with Jamondria Harris, Shannon Funchess, Amenta Abioto, Christi Denton, Anna Vo, Myles de Bastion, and France Jobin. This panel will be ASL interpreted.
8:30 PM – 12:00 AM – S1 presents a night of new collaborative performances: Indira Valey + Kevin Holden, Felisha Ledesma + keyon gaskin, Alex Ian Smith + Angelo Harmsworth, DJ Black Daria + Daniela Karina
Subharmonic: A Sonic Arts Symposium is generously supported by PICA, S1, PSU School of Music; Sonic Arts and Music Technology Program, School of Art and Design, SIX, and Friends of Noise