La artista sonora de Montreal France Jobin explora en "10-33 cm" la Teoría de las Cuerdas como primera fuente sonora
Another conceptually provocative piece from Canada's France Jobin, operating under the name "i8u". "10.33cm" purports to be directly influenced by String Theory,
We haven't heard lately of France Jobin, who works since many years as I8U.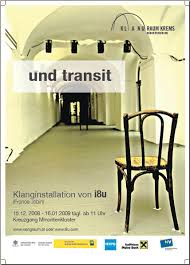 We all have a capacity to ignore the space we must use to get to our destination. Like most passage ways, they are a means to an end and rarely are treated as an end in itself.
i8u's 10-33 cm is a audio work of varied proportion and calculated shape. Based on the ideas associated with String Theory,